Lamington National Park – Top 5 Things To Do
Nestled away in the Gold Coast hinterland is Lamington National Park, a cornucopia of natural wonders and activities.
The park is classified as world heritage rainforest with a long history that dates back
to the Paleozoic era more than 225 million years ago when South America, Australia and Antarctica were joined.
Australia finally broke away from Antarctica and began to move northwards 70 million years ago.
Following this continental shift, volcanic activity took place across Australia and particularly the scenic rim, leaving behind beautiful gorges, waterfalls and a large diversity of flora and fauna unlike anything else in the world.
Welcome to Lamington National Park, it really is as tasty as it sounds.
Here are the top 5 things to see and do when visiting:
1. Tree top walk
2. Birdlife
3. Picnic rock
4. Elabana Falls
5. Scenic views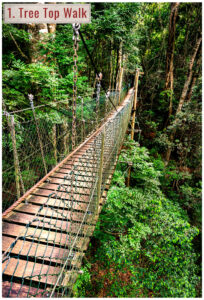 The tree top walk is situated along the Booyong boardwalk (800m return) nearby the O'reillys guest house.
At 15m elevation it gives you a perfect vantage point to spot birdlife and gets you up close with the ancient Booyong tree, a native species to QLD that grows up to 45m tall due to its deep root system.
The tree top walk consists of multiple suspension bridges, zigzagging its way through the rainforest.
The walk is free and bird feeding costs a few dollars.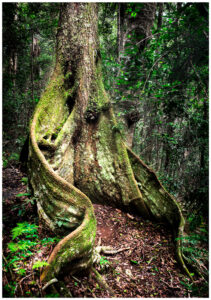 Booyong Tree
Over the course of millennia, the dense forest canopy has created refuge for an array of birds such as parrots, rosella's, bower's, lewin's honeyeater, eastern spinebills, fairy-wrens, kookaburras and the spectacular alberts lyrebird.
Along with 160 other species of subtropical birds which attract avid bird watchers and photographers from all over the world.
These feathered friends are so used to human interaction that they fly right into your hand to be fed.
O'reillys also offer their birds of prey show, each day their resident eagles and owls fly through a seated audience showing off their majestic colors.
bookings for this show are required.
Picnic rock is 3.3km from O'reillys carpark located on the Box Forest Circuit, at the top of Elabana falls.
It has a series of large flat boulders making it the perfect spot to take a break and have lunch
while soaking in the peaceful sounds of the cascade.
The Lamington waterways are home to a unique and endangered species of Spiny crayfish which both swims and walks on land.
Keep a look out for their distinctive blue color.
Following Picnic Rock be sure to continue on 400m to Elabana Falls.
The path branches off the main border track 1.7 km from the carpark and is a further 2km from the signpost.
Winding its way down the rainforest through ancient Brush Box and stunning Antarctic Beech trees.
The track is classed as grade 4 and can be slippery after rain so its advised to be well prepared with food,
water and correct clothing. Its also highly advised to check the QLD government website for any updates
or closures due to track maintenance prior to starting your hike.
The drive up to Lamington offers panoramic views west out to the Scenic Rim and Mcpherson range.
With clear weather conditions Mt Lindsay and Mt Barney can be seen in the distance.
The national park covers more then 20,000 hectares, which means there is plenty to explore.
Lamington is 900m above sea level, so temperatures can be much cooler then surrounding low lying areas.
The weather can change very fast at this altitude so always take appropriate clothing.
Mt Barney
Getting there: Follow Lamington National Park Rd via Canungra until reaching O'reilly's guest house and carpark.