Sapphire Coast NSW – Plan your next holiday
Sydney Australia is a postcard city with stunning architecture and beaches attracting millions of visitors each year. It has been voted in the top 10 cities in the world and for most people it has either been ticked off their bucket list or is soon to be.
With the NSW coastline stretching 1400km, there is a lot of untouched beauty to explore. So if you are planning a holiday and want your own secret paradise then continue reading, because this article will be concentrated on the south coast of NSW.
The south coast is known as the Bega Valley Shire, however is also referred to as the Sapphire Coast for tourism purposes. It starts in the small town of Eden which is famous for its whaleing history. It is home to one of the deepest harbours in the world and is thriving in marine biodiversity. This makes it a popular area for scuba divers chasing mussels, oysters, squid and abelone.
During winter many species of whale can be seen migrating and feeding as they swim past Twofold bay. 
Aslings beach is a popular spot for a swim with an ocean pool, outdoor showers and picnic tables.
Experience the freshest seafood straight off the boat from the Eden wharf at snug cove.
North of Eden is Merimbula, a small town with a relaxed vibe. Take a drive up to Short Point headland which offers panoramic views out to the South Pacific ocean.
The contrast of white sand and vivid blues are stunning from any angle, with endless lakes and estuaries for stand up paddle boarding, kayaking and snorkeling there are plenty of reasons to visit.
For animal lovers, Head inland just 10km to Potoroo Palace wildlife park and encounter Australia's native animals up close.
The next stop is Tathra, a coastal town well known for locally harvested oysters from the pristine Nelson and Wapengo Lakes within Mimosa Rocks National Park. A large portion of the surrounding land area consists of national park and dairy farms particularly home to Bega Cheese which is an Aussie staple that is exported around the world.
For an adventure, take a bike ride through the Bournda national park which has over 50km of mountain bike trails that cater for beginner to experienced riders.
Offshore is the SS Empire Gladstone ship which became wrecked in 1950 on a voyage from South Australia to Newcastle. Its a popular dive spot during winter when the summer winds have settled and visibility is good.
Nearby is Bermagui, a small town with a population of 1600 people including a strip of shops and cafes. 'Bermi' as its often referred to is only 12 miles from the oceans continental shelf which has made it an attraction for big game fisherman over the generations. Famous for its marlin, and variety of tuna such as yellowfin and albacore.
For those looking to cool off, try the blue pool as it is a hidden gem well worth a visit. The incoming tide refills the pool with fresh ocean water creating a perfect environment for a relaxed swim.
The best time to visit the pool is early morning from 10am as it gets quite busy. If parking is full, try Cuttagee beach as another great option.
5 minutes drive north is Wallaga lake, here there are several rock formations along the beach which are popular for photographers and artists. Horse head rock and Camel rock are the two most commonly visited. At low tide there are an endless array of shells and small rock pools which create an interesting foreground in a photo.
Access to the rocks can be done at low tide via some rock scrambling or alternatively there is a path on top of the headland with a viewing platform. Both options offer a fantastic view of the rocks.
Note: Hiking to horse head via rocks at low tide is quite dangerous as there are several bays to cross over in accordance with the tide, so make sure to wear supportive footwear and check the tide charts prior to hiking.
Continuing north 4 hours along the A1 highway: Passing through Mogo Forest, Batemans Bay and Jervis Bay which are popular holiday destinations you will then arrive at Kiama.
On arrival you are greeted with sweeping views of the hinterland and ocean, a region historically known for its red cedar trees which were used by early settlers to build ships and furniture.
The township is nestled amongst Terralong St with stunning 18th century buildings along with modern conveniences of today including shops and restaurants.
Close by you can walk amongst tall Norfolk trees to visit the blowhole and lighthouse that offer coastal walks to neighboring beaches.
Indulge in freshly caught seafood at the harbour market just next to the ocean pool or enjoy live music at Hindmarsh park all within walking distance of Terralong street.
Spending the night? Stay in comfort at one of many apartments, holiday parks and B&B's available.
For an outdoor adventure visit the Cathedral rocks and explore the sea caves at low tide which is a spectacular spot to watch the sunset.
Kiama offers a perfect mix of experiences from the rainforests, RSL clubs, day spas and wineries. Making the region well worth a visit.
Deeply embedded in the history of Kiama are the stories of Bombo, the historic quarry where basalt columns line the ocean shore. This was a large mining site of steel between 1880-1900, broken up by steam powered crushing machines and loaded onto ships.
Hundreds of tons a week were being sent to Sydney known as the Stone Fleet.
Kiama's basalt (volcanic rock) was suitable for road, rail and tramway construction and was a critical part in the transport boom in Sydney.
From here continue north along the Grand Pacific Drive, stretching 140km passing through Woolongong and Coal Cliff, home to the infamous Sea Cliff Bridge.
Close by is Bundeena and Maianbar which are popular little villages to visit situated along Port Hacking.
The scenic drive continues through to the Royal National Park and into Sydney.
Summary: The NSW south coast is packed full of opportunities, from the rainforest to the sea, there are endless natural wonders that create the perfect holiday for all ages with the best months to visit between November and May.
Getting There: Starting in Eden, follow the Princes Highway/A1 north.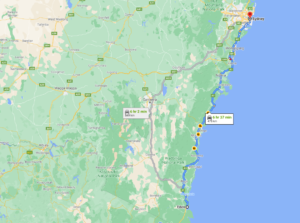 Additional Sapphire Coast Photos: